Spanish & English Versions Below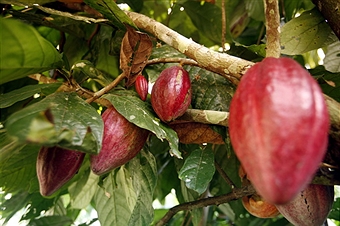 Esto está escrito por nuestro chocolatero y buena amiga Vanessa, que es nuestro agente de chocolate en Venezuela.
El Cacao Venezolano y Santa Bárbara Chocolate
Santa Bárbara Chocolate como conocedores del mejor cacao en el mundo y siempre ofreciendo el cacao más fino a nivel mundial, nos mantenemos en constante investigación para ofrecerles a nuestros consumidores, chocolates elaborados a partir de materia importada de la más alta calidad reconocido a nivel mundial. El cacao venezolano es sin duda parte fundamental de nuestras recetas ya que su sabor y aroma propiedades características del cacao venezolano han sido reconocidas en la Conferencia Mundial del Cacao realizada en Punta Cana el presente año "Como el mejor cacao del mundo"
El Cacao Venezolano Reconocido a Nivel Mundial
Como líderes en suministro de chocolate al por mayor, nosotros hacemos énfasis en obtener materia prima de la más alta calidad y que cumpla con los más altos estándares, y es por ello que hemos seleccionado entre una gran gamma de cacao provenientes de diversos países del mundo, el cacao venezolano como base imprescindible para nuestro chocolate.
El cacao venezolano, presume de su singularidad y exclusividad, el reconocido cacao porcelana proveniente de la zona occidental del país tiene un poder aromático único y una delicada textura, se caracteriza por su sabor a nueces, caramelo, flores y malta, además posee un grano grande de color blanco el cual carece de polifenoles responsable del sabor amargo característico.
El Cacao Venezolano Único E Incomparable
De ahí que el cacao venezolano sea uno de nuestros cacao preferidos, su genética es única lo que le proporciona sabores y aromas que no se encuentran en ningún otro cacao del mundo. Considerando además que Venezuela solo tiene una producción de cacao que representa solo el 0.5% de la producción mundial, ya que por ser un país que vive de la renta petrolera no ha sacado el provecho que produciría la exportación de este tesoro natural que poseen, lo que hace que el cacao venezolano sea un producto difícil de conseguir lo que eleva su exclusividad y para Chocolates Santa Bárbara la exclusividad es clave importante para un producto de calidad por lo que nos esmeramos en conseguir cacao venezolano.
Comprometidos como lo estamos con nuestra clientela y con el medio ambiente, el chocolate orgánico que ofrecemos proviene de cacao venezolano sembrado y cosechado en fincas en donde el productor cuida a cada uno de los árboles del cacao, y se cosecha de manera tradicional sin empleo de fertilizantes ni productos químicos que dañen el medio ambiente y afecten la calidad del cacao. Así obtenemos chocolate orgánico 100% que garantice las bondades que ofrece a nuestro organismo y al medio ambiente el chocolate orgánico Santa Bárbara.
Chocolates Al Mayor Donde La Calidad Y La Cantidad Van De La Mano
El chocolate a granel de Santa Bárbara Chocolate es utilizado en decenas de restaurantes, tiendas de chocolates y reposterías, por ello para nosotros es de suma importancia garantizar un producto que cumpla con las expectativas de los consumidores más exigentes, con un cacao fino de inigualable sabor y aroma, que regale una experiencia sublime a quien lo consuma.
En conclusión si eres amante del chocolate, o eres un repostero profesional, restaurant o tienda y deseas elaborar tus productos con el mejor chocolate en el mercado, y además buscas suministro de chocolate al por mayor o chocolate a granel, estás en el sitio indicado. Mira nuestra gama de productos y deléitate con nuestras exquisiteces, además encontrarás el mejor chocolate orgánico que existe en el mercado para todos los gustos y preferencias.
English translation of the above article:
This is written by our chocolatier and good friend Vanessa who is our chocolate agent in Venezuela.
The Venezuelan Cocoa and Santa Barbara Chocolate
Santa Barbara Chocolate as connoisseurs of the best cocoa in the world and always offering the finest global cocoa, we remain in constant research to offer our consumers, chocolates made from imported materials of the highest quality recognized worldwide. Venezuelan cacao is certainly a fundamental part of our recipes because its flavor and aroma characteristics of Venezuelan cacao properties have been recognized at the World Cocoa Conference held in Punta Cana this year "As the best cocoa in the world"
The Venezuelan Cocoa Recognized Worldwide
As a leader in supplying wholesale chocolate, we make emphasis on obtaining raw materials of the highest quality and meets the highest standards, and that is why we have selected from a wide gamma of cocoa from various countries of the world the Venezuelan cacao as essential for our chocolate base.
Venezuelan cacao, boasts its uniqueness and exclusivity, the renowned porcelain cocoa from the western part of the country has a unique aromatic power and a delicate texture, is characterized by its nutty, caramel, flowers and malt, also it has a grain large white which lacks polyphenols responsible for the characteristic bitter taste.
The Venezuelan Cacao one and only
Hence the Venezuelan cocoa is one of our favorite cocoa, their genetics is unique which provides flavors and aromas that are not found in any other cocoa in the world. Considering further that Venezuela only has a cocoa production represents only 0.5% of world production, as being a country that lives off oil income has not taken advantage would produce the export of this natural treasure they have, what which makes the Venezuelan cocoa is a difficult product to get bringing its exclusivity and Chocolates Santa Barbara exclusivity it is important for a quality product so we strive to get Venezuelan cacao key.
Committed as we are with our customers and the environment, organic chocolate we offer comes from Venezuelan cacao planted and harvested on farms where the farmer cares for each of the cacao trees, and harvested in the traditional manner without the use of fertilizers or chemicals that damage the environment and affect the quality of cocoa. So we get 100% organic chocolate to ensure the benefits offered to our body and the environment the organic chocolate Santa Barbara.
Chocolates where quality and quantity Go Hand in Hand
The bulk chocolate Santa Barbara Chocolate is used in dozens of restaurants, shops chocolates and pastries, so for us it is of utmost importance to ensure a product that meets the expectations of the most discerning consumers with a fine cocoa unique flavor and aroma, which regale a sublime experience who consume it.
In conclusion if you love chocolate, or you are a professional pastry chef, restaurant or shop and you want to develop your products with the best chocolate in the market, and also looking for supply of chocolate wholesale or bulk chocolate, you're in the right place. Check out our range of products and delight with our delicacies also find the best organic chocolate on the market for all tastes and preferences.
Venezuela produces organic chocolate of very high quality. Santa Barbara Chocolate works with local farmers to grow the best cacao we in turn offer this cacao and chocolate in wholesale and bulk for you to enjoy eating straight or in baking.