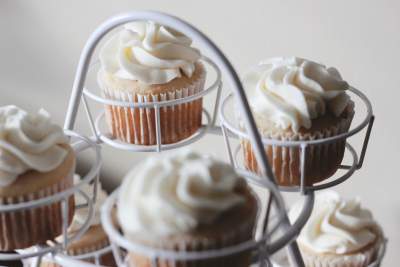 How to Make White Chocolate Frosting
White chocolate frosting that is a chocolate buttercream that somehow meets a white chocolate ganache and is full of flavor is how this recipe is best described. The consistency is much better for shelf stability so you can make your cake a day early for a party and not worry so much about a frosting mess. This is an easy frosting for a cake and it will generally travel better than most buttercream, especially if you're taking a bunch of cupcakes to your kid's school party. This recipe is a white chocolate frosting that comes out medium soft and delicious. It is useful for frosting cakes, cookies and cupcakes. An adapted buttercream recipe it is better than a ganache for ease of use and versatility.
Because this is basically a white buttercream recipe, you can play with different natural food colorings. Try adding powdered fruit colors (freeze dried fruit powder). It's easy to create beautiful decorations for your frosting of cupcakes without needing to use many elements. If you're interested in a coloring with no flavor to allow the natural white chocolate to come through, use an oil base coloring such as gel. Gel food coloring is better than the liquid ones because liquid colorings will repel the cocoa butter of the white chocolate and will make the frosting watery and grainy over time.
There are many types of chocolate bars and discs on the market. Always use a real chocolate based on cocoa butter for healthy reasons and also for the best flavor.Belgian Chocolate and white chocolate from the brand Santa Barbara Chocolate are winners and easy to use. The Rio Tigre white chocolate is made with rainforest pure cocoa butter, Tahitian vanilla beans and fresh milk. Remember it is important to use just high quality ingredients to get the best results, otherwise you might as well buy a cake and not bake one yourself.
White Chocolate Frosting Ingredients:
1 cup of butter, room temperature
3.5 oz of White Chocolate
3 cups of powdered sugar
2 tbsp of milk
1 tsp of vanilla extract
A pinch of salt
Instructions:
Using the double boiler method, melt your White Chocolate and set aside to cool down before making the frosting. You can also melt the chocolate with the microwave: heat for 20 seconds and stir, repeat the same process until the chocolate is completely melted.
In a large bowl, add room temperature butter and whisk it until really pale and creamy. You can do this by hand using a whisker if you don't have an electric mixer.
Incorporate the powdered sugar into the bowl, one cup at a time, whisking between each cup to combine the sugar with the butter. It is really important to sift to avoid lumps in your white chocolate frosting.
Add the pinch of salt and vanilla extract, keep mixing.
Pour your melted white chocolate into the bowl, make sure it is not hot or it will melt the frosting and it won't be creamy.
If you feel your chocolate frosting is not soft enough, add 1-2 tbsp of milk, but this will make it more delicate and more difficult to transport.
Give it a good stir and get ready to decorate with your exquisite homemade white chocolate frosting!

Check out our full list of chocolate varieties: