Description
Brazilian Style Dark Compound Chocolate is a confectioner's coating that does not require tempering. Tastes like chocolate but the cocoa butter has been replaced with a trans fat free sustainable palm oil.
Named Brazilian because of the unique blend of quality Brazilian black cocoa ingredients we use to impart the dark fudge like flavor.
Make fast and easy dark candy coated dipped strawberries. Melt at a low temperature (below 110F), dip and chill to set. Perfect for use in candy moulds and all dipping chocolate applications or candy making.
Top 3 Reasons Why Los Angeles Pastry Chefs use our Brazilian Style Dark Compound Chocolate
Tastes similar to chocolate and with no weird ingredients or hydrogenated oils

Easy, fast and big labor savings

Versatility: chocolate dip strawberries, cookies, pralines and truffles

Our suppliers use RSPO palm oil and it is sustainable palm and Ethical trade
Melting Chocolate (Confectioners coating) is fast and easy: Melt in the microwave. Set power to 50% and microwave the compound in 30 second bursts, stirring regularly. Don't exceed 110F. Place in the freezer for 1 or 2 minutes to set.
So why use a cocoa butter based chocolate if it is easier to use a compound chocolate?
Cocoa butter based chocolates that require tempering offer an ingredients statement of pure cocoa ingredients rather then the addition of a palm oil listing. Cocoa butter based chocolates have an unmistakable flavor that can not be entirely duplicated. The ingredient listing in a cocoa butter based chocolate is closer to the cocoa bean itself with chocolate (cocoa mass and cocoa butter being the ingredient). Compound chocolates on the other hand do not contain chocolate (cocoa mass and cocoa butter), but rather dark cocoa powder (pressed cocoa mass that has had cocoa butter removed) as an ingredient. In the milk and dark coatings cocoa is an ingredient while no cocoa ingredients are in the white candy coating (white coating is made with quality milk and palm fat).
Why use a compound chocolate?
Santa Barbara Chocolate's exclusive Brazilian Style Compound Chocolate is made to taste much better then other confectioner's coating. Ours is easy to use: just melt on a low temperature and dip strawberries or cookies or cakes even. Chill to set whatever you decided to dip or coat. Make shapes very quickly and easily using candy moulds. Our compound chocolate has the biggest benefit of being a labor savings because you don't need to purchase a tempering machine or to temper by hand. Our entire range of compound chocolate is a unique brand in the sense of the flavor from our cocoa and trans fat free fractionated palm oil which is environmentally friendly and sustainable.
You'll find the Brazilian confectioner's coatings to be the best quality bulk wholesale compound chocolates that set up hard after melting. They taste similar to chocolate, they have a nice color and quality melt.
Dip chocolate covered strawberries fast and easy. We rolled the crunchy chocolate strawberry in granola.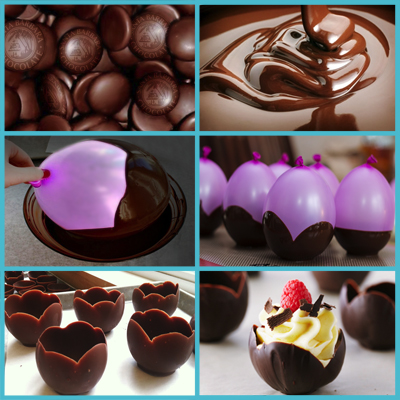 Warranty Information
Brazilian Style Dark Compound Chocolate is the best tasting confectioners coating that sets up hard fast and easily when chilled. Melt below 110F, dip and go. Works perfectly in candy making and chocolate moulds.