French Chocolate Truffle Recipe
French Chocolate Truffles are traditional dark chocolate truffles, hand rolled in cocoa powder or nut powder to mimic the look of the truffle mushroom (an exotic French mushroom that grows underground near the surface - traditional choice in French cuisine).
Called French Truffles because of the look and also because the recipe was first developed for King Louis XIV The Sun King (1643-1715). The truffles were usually served as a dessert at royal feasts to impress visiting dignitaries.
French Chocolate Truffle Recipe:
Ingredients:
16 oz dark chocolate
1 oz honey
6 oz butter
Melt at a low temperature all ingredients above in a bowl. Whisk and once smooth and silky set aside covered for 24 hours.
After 24 hours spoon the soft filling and roll into balls. Drop the balls into Cocoa Powder (or nut powder) and coat fully.
The end result is a traditional French Chocolate Truffle fit for a king.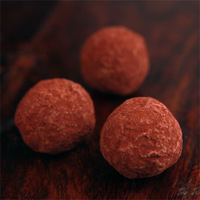 Dark Chocolate Truffles
Probably one of the easiest to make gourmet chocolates while being the most haute of dessert indulgences, dark chocolate truffles are the cornerstone of the retail chocolate store and the best way to see how much a pastry chef knows about baker's chocolate and truffle recipes. The most simple of basic recipes is the traditional baker's recipe for dark chocolate truffles. This is a recipe famous for being the fastest solution for when you need 2 ingredient desserts that are fast to make.
Dark Chocolate Truffles Recipe made with baker's chocolate:
14 oz Sweetened Condensed milk heated in a saucepan.
28 oz baker's chocolate that is unsweetened and very dark - stirred into heated condensed milk
Stir the 2 ingredient recipe till everything is melted and smooth.
Pour into a bowl and chill for 2 hours or more (you want the mixture to set up solid enough so you can spoon and roll into balls).
Roll the dark truffle balls and present in a cup, on top of a cake or in a gift box. If you want to skip being the purest with the 2 ingredient dessert recipe, add another item like coconut or freeze dried fruit to roll the dark chocolate truffles in as a coating. The addition will add flavor and texture as well as color. In fact you can use the same base and roll each truffle in a different coating (cocoa powder, nuts, fruit, baking decorations like funfetti) to make a diverse looking chocolate box filled with dark indulgence.