Homemade Keto Brownies
Because you deserve to have dessert whenever you want, even if your lifestyle is no sugar or low sugar, we'll show you our recipe for these amazing and extremely easy keto brownies! Keto diet followers tell us this is the best brownie recipe and the no guilt indulgence that keeps them satisfied and away from refined sugar.
The main ingredient for the recipe is the high fiber, no added sugar cocoa powder. I recommend to always use one that is high quality to get the best results, we'll use the Rainforest cocoa powder from Santa Barbara Chocolate since it is the best tasting no sugar cacao powder on the market.
If you love nuts in brownies, you should add some to pump up the protein of these incredible goodies! Be careful with the carbs in nuts to ensure your keto diet. The lower carb options and the ones that I recommend to use for this recipe are: pecans, brazil nuts and macadamias.
Ingredients:
¾ cup of almond flour, sifted
1/3 cup of Rainforest cocoa powder, sifted
1/3 cup of butter, melted and cooled down
2 eggs
1/3 cup of sugar alternative like isomalt, monk fruit sweetener, Sucralose or agave crystals (be sure to measure the proper equivalents so it equals about 1/3 cup of traditional granulated sugar. Sweeteners like pure stevia would be different measurements because of the stevia concentration strength).
3 tbsp of black coffee, brewed
1 tsp of vanilla extract
½ tsp of baking powder
A pinch of salt
Instructions:
Preheat the oven to 350 degrees F.
In a large bowl, combine the melted butter and sugar alternative. I recommend using melted butter for these brownies, but you can also use coconut oil, same 1/3 cup. Regarding the sugar alternative, be careful with this because not all of them are 1:1 in relation with regular sugar, so if you're going to use one that isn't 1:1 use about half of the portion that I mentioned above. Remember that some of the sweetener alternatives that you find in the market are about 5x stronger than regular sugar.
Using a whisk or an electric mixer on low speed, start to combine your ingredients until completely combined. You want a creamy texture.
Add in one egg at a time and mix well in between each one. Before adding the eggs it's important to check if the melted butter is not too hot as it can mess up the mixture if it is too hot.
Sift into the bowl the almond flour, Rainforest cocoa powder and baking powder. You want to make sure to sift the dry ingredients to avoid lumps.
Using a spatula, start to fold in the dry ingredients by hand, we don't want to over mix.
When about half of the mixture is combined, add the vanilla extract, salt and the brewed black coffee, don't forget to make sure it's not hot before adding.
Keep combining the mixture until you get a thick chocolate batter.
Prepare an 8x8 inch pan with some parchment paper. You can also use aluminum foil for this or some cacao powder to cover the surface of the pan.
Pour the brownie batter into the pan and using a table knife or the back of a spoon, spread the batter to cover all the pan evenly.
If you prefer your brownies to be moist and fudge like, bake these for 18-20 minutes. If you like them drier, bake for 25 minutes.
When ready, take them out of the oven and let them cool down before cutting.
Enjoy!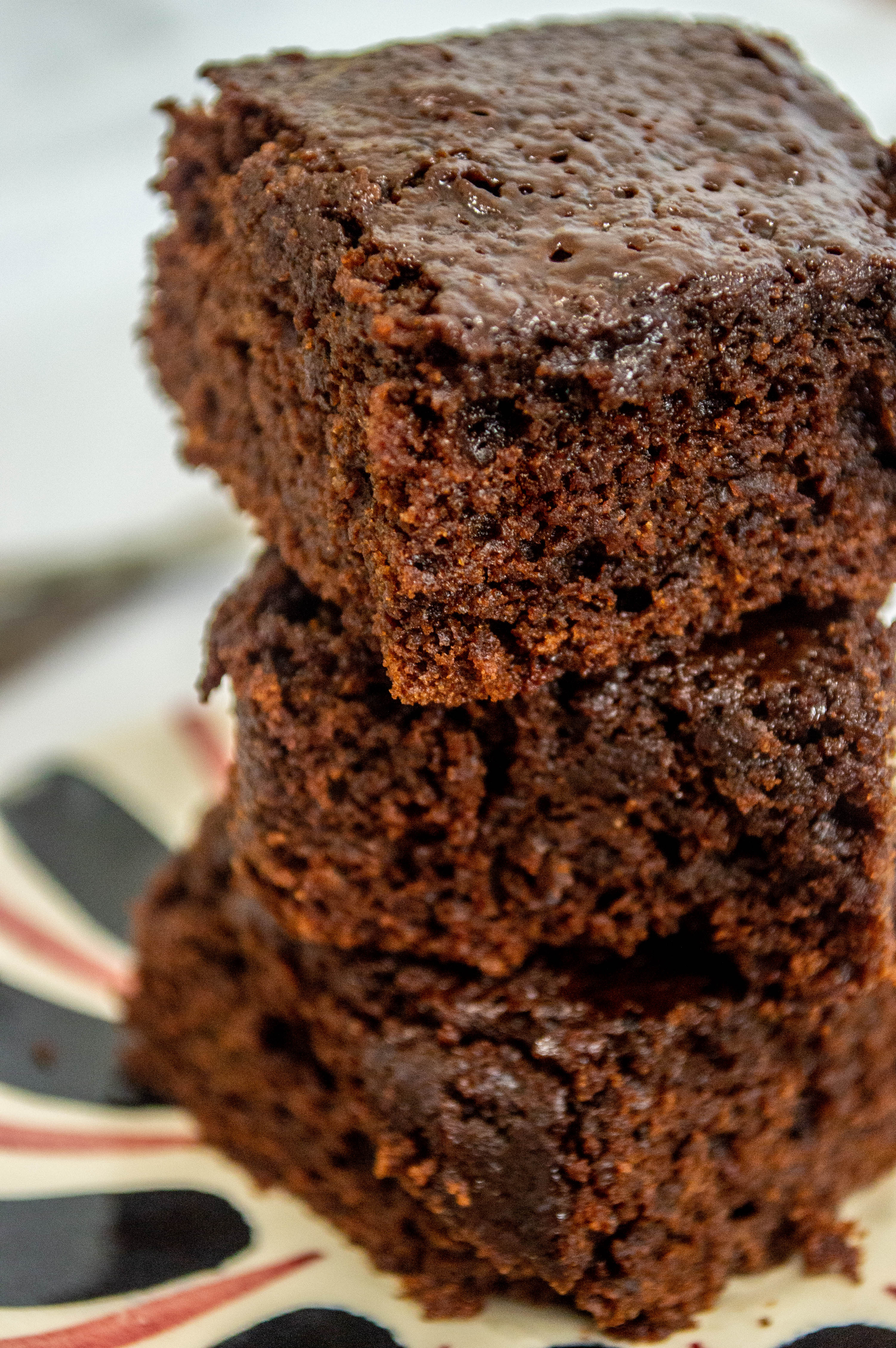 { "@context": "https://schema.org/", "@type": "Recipe", "name": "Keto Brownies", "image": "https://cdn11.bigcommerce.com/s-ham8sjk/images/stencil/320w/uploaded_images/keto-brownies.jpg?t=1588469146", "description": "All-time classic Brownies made keto-friendly!", "keywords": "Keto Brownies", "author": { "@type": "Person", "name": "Jason Vishnefske" }, "datePublished": "2020-05-02", "prepTime": "", "cookTime": "", "totalTime": "", "recipeCategory": "dessert", "recipeCuisine": "Western", "nutrition": { "@type": "NutritionInformation", "calories": "" }, "recipeIngredient": [ "¾ cup of almond flour, sifted", "1/3 cup of Rainforest cocoa powder, sifted", "1/3 cup of butter, melted and cooled down", "2 eggs", "1/3 cup of sugar alternative like isomalt, monk fruit sweetener, Sucralose or agave crystals (be sure to measure the proper equivalents so it equals about 1/3 cup of traditional granulated sugar. Sweeteners like pure stevia would be different measurements because of the stevia concentration strength).", "3 tbsp of black coffee, brewed", "1 tsp of vanilla extract", "½ tsp of baking powder", "½ tsp of baking powder" ], "recipeInstructions": [{ "@type": "HowToStep", "text": "Preheat the oven to 350 degrees F." },{ "@type": "HowToStep", "text": "In a large bowl, combine the melted butter and sugar alternative. I recommend using melted butter for these brownies, but you can also use coconut oil, same 1/3 cup. Regarding the sugar alternative, be careful with this because not all of them are 1:1 in relation with regular sugar, so if you're going to use one that isn't 1:1 use about half of the portion that I mentioned above. Remember that some of the sweetener alternatives that you find in the market are about 5x stronger than regular sugar." },{ "@type": "HowToStep", "text": "Using a whisk or an electric mixer on low speed, start to combine your ingredients until completely combined. You want a creamy texture." },{ "@type": "HowToStep", "text": "Add in one egg at a time and mix well in between each one. Before adding the eggs it's important to check if the melted butter is not too hot as it can mess up the mixture if it is too hot." },{ "@type": "HowToStep", "text": "Sift into the bowl the almond flour, Rainforest cocoa powder and baking powder. You want to make sure to sift the dry ingredients to avoid lumps." },{ "@type": "HowToStep", "text": "Using a spatula, start to fold in the dry ingredients by hand, we don't want to over mix." },{ "@type": "HowToStep", "text": "When about half of the mixture is combined, add the vanilla extract, salt and the brewed black coffee, don't forget to make sure it's not hot before adding." },{ "@type": "HowToStep", "text": "Keep combining the mixture until you get a thick chocolate batter." },{ "@type": "HowToStep", "text": "Prepare an 8x8 inch pan with some parchment paper. You can also use aluminum foil for this or some cacao powder to cover the surface of the pan." },{ "@type": "HowToStep", "text": "Pour the brownie batter into the pan and using a table knife or the back of a spoon, spread the batter to cover all the pan evenly." },{ "@type": "HowToStep", "text": "If you prefer your brownies to be moist and fudge like, bake these for 18-20 minutes. If you like them drier, bake for 25 minutes." },{ "@type": "HowToStep", "text": "When ready, take them out of the oven and let them cool down before cutting." },{ "@type": "HowToStep", "text": "Enjoy!" }], "aggregateRating": { "@type": "AggregateRating", "ratingValue": "5", "bestRating": "5", "worstRating": "1", "ratingCount": "1" } }