Homemade Chocolate Syrup for Refreshing Summer Drinks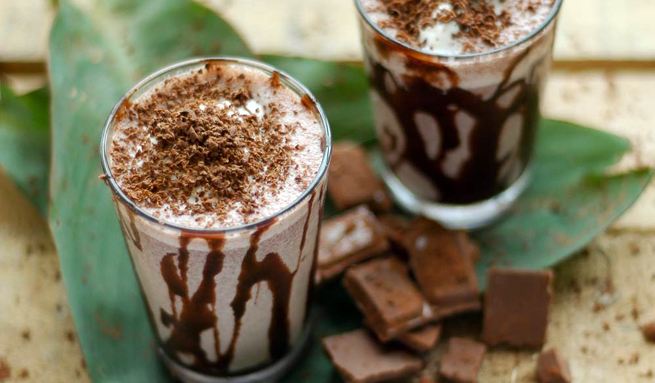 Summer is here, and chocolate everywhere is making its way into its season-appropriate form: ice cold beverages. There are plenty of ways to incorporate your favorite treat into your summer drinks, but they all rely on one thing: homemade chocolate syrup.
Why should I make my own chocolate syrup?
Have Full Flavor Control:
Not only do store-bought chocolate syrups lack flavor, they are also chock-full of highly processed, unhealthy ingredients. Some chocolate syrups don't even contain cocoa! Making your own syrup will allow you to add as much cocoa as you want for rich chocolate flavor while letting you control your sugar and eliminate ingredients like triglycerides and xanthan gum.
Easy to Use:
Mixing pure cocoa powder with cold liquid can sometimes be difficult. A syrup, on the other hand, is easy to combine with both hot and cold drinks, so you can crank out delicious chocolaty smoothies, cocktails, and just about anything else.
How do I make my own chocolate syrup at home?
With that in mind, here's how to go about making chocolate syrup. You can use either cocoa powder or unsweetened chocolate, but using 100% pure cacao chocolates makes an especially delicious syrup.
100% Pure Cacao Chocolate Syrup Recipe
2 oz.

100% pure cacao chocolate

½ cup sugar

6 tbsp. water

2 tbsp. butter

¼ tsp. vanilla
Chocolate Syrup Instructions
Heat chocolate and water on low, stirring constantly until the chocolate is completely melted.
Mix in sugar and stir for 1-2 minutes over medium heat until the sugar grains are no longer visible.
Turn the stove off, remove the pot, and stir in the vanilla and butter.
Store in the refrigerator.

Drink and Enjoy!