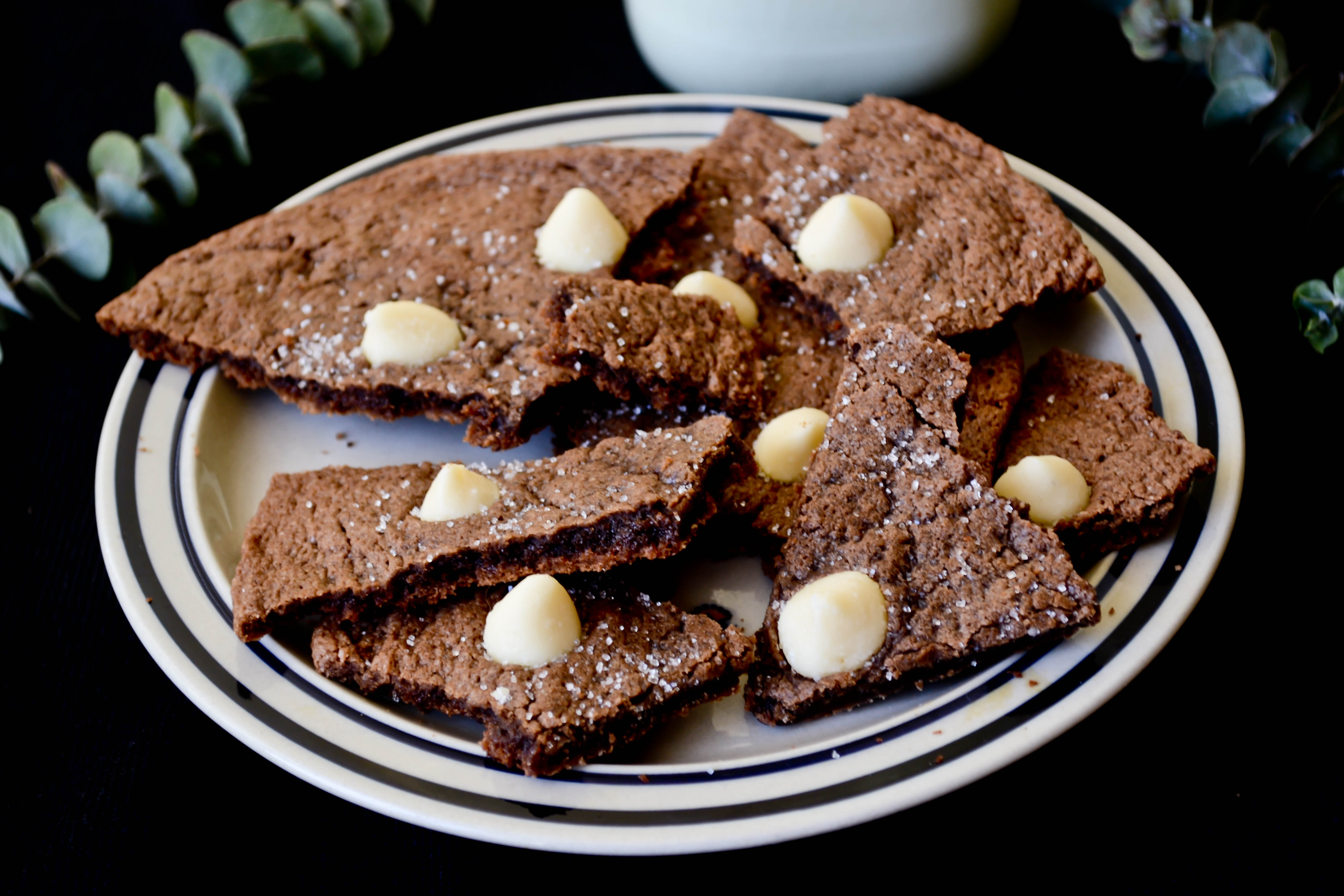 Triple Chocolate Cookies Recipe
What better than having chocolate cookies? Well, having a giant, warm, crumbly triple chocolate cookie.
Cookies, as we know them nowadays, have exist since 1585, yes, a long time ago. Their first appearance was in a book called "Good Huswife's Jewel" which was written by Thomas Dawson.
This cookie recipe is my mom's favorite; for her birthday last year we baked giant triple chocolate cookies for every guest and also, to make it more fun, there was a candy bar full with different kinds of chocolate sprinkles, chocolate chips, candy bars, marshmallows, melted chocolate, dulce de leche for everyone to add to their cookies!
"Today me will live in the moment, unless it is unpleasant. In which case me will eat a cookie." - The Cookie Monster
Ingredients:
Instructions:
Melt your Belgian Dark Chocolate over a bain marie or in the microwave at half power and set aside to cool down. If you are going to use the second melting option, set power at 50%, heat for 15 seconds, stir and heat 15 second again; repeat this process until the chocolate is completely melted. Be careful not to burn your dark chocolate.
In a large bowl, whisk together butter and sugar. You need to whisk these two really well, for at least 3 minutes, until really fluffy. Don't worry if you don't have an electric mixer, do it by hand and count it as an exercise!
Add one egg at a time and the black coffee, keep whisking. Keep in mind that you won't notice the coffee taste but it will really help enhance the chocolate flavor, I like adding a bit of black coffee to almost all my chocolate desserts.
In a separate bowl, sift all your remaining dry ingredients: all purpose flour, Rainforest Cocoa powder, baking soda and salt.
Combine all the ingredients without over mixing.
Chill your cookie dough for 20 minutes before baking. This will help the cookie to keep the shape in the oven. I recommend baking one cookie at a time because they expand a lot.
This amount of dough is enough to make 2 giant cookies (or around 12 - 14 regular size cookies). So divide your dough in two balls.
Butter your baking pan or use some parchment paper under your cookie. Add your dough ball and slightly press it down.
Bake for 8 minutes, take the cookie off the oven, place your Belgian White chocolate, sprinkle some sugar on top and then put it back in the oven to bake it for another 2 – 3 minutes.
Let it cool down completely before moving it to a plate. This is the reason why I rather use parchment paper under because when you're read just pull up the parchment paper and let the cookie cool down outside the baking pan.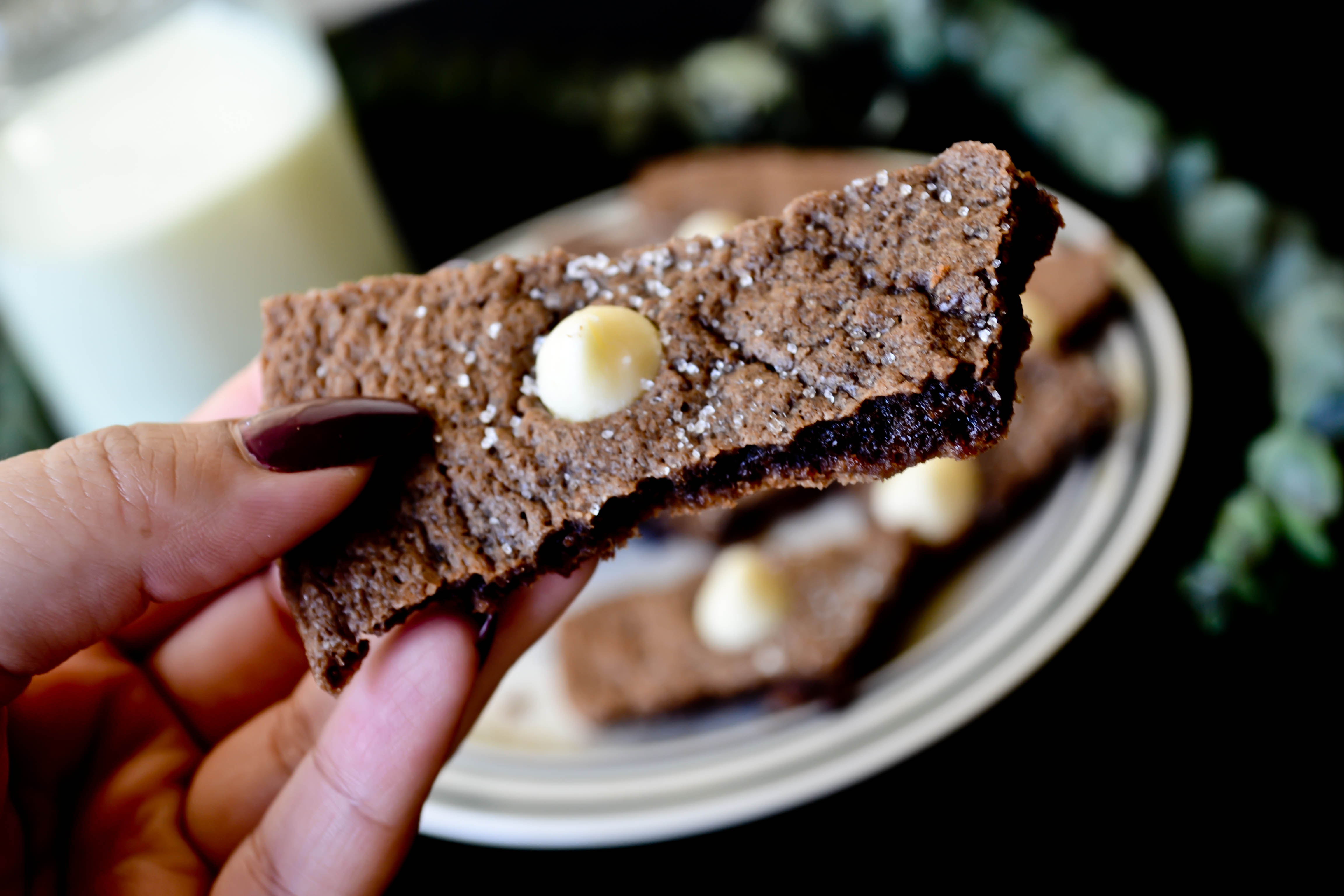 Check out our full list of chocolate varieties:
{ "@context": "https://schema.org/", "@type": "Recipe", "name": "Triple Chocolate Cookies", "image": "https://store-ham8sjk.mybigcommerce.com/product_images/uploaded_images/triple-chocolate-chocolate-cookie.jpg", "description": "", "keywords": "Triple Chocolate Cookies", "author": { "@type": "Person", "name": "Jason Vishnefske" }, "datePublished": "2020-06-21", "prepTime": "", "cookTime": "", "totalTime": "", "recipeCategory": "dessert", "recipeCuisine": "American", "nutrition": { "@type": "NutritionInformation", "calories": "" }, "recipeIngredient": [ "1 cup of butter, room temperature", "2 cups of all purpose flour, sifted", "3.5 oz of Belgian Dark Chocolate", "2 oz of Belgian White Chocolate", "2 eggs, room temperature", "2 cups of sugar", "½ cup of Rainforest Baking Cocoa powder", "2 tbsp of black coffee, brewed", "1 tsp of baking soda", "A pinch of salt" ], "recipeInstructions": [{ "@type": "HowToStep", "text": "Preheat oven to 350º F." },{ "@type": "HowToStep", "text": "Melt your Belgian Dark Chocolate over a bain marie or in the microwave at half power and set aside to cool down. If you are going to use the second melting option, set power at 50%, heat for 15 seconds, stir and heat 15 second again; repeat this process until the chocolate is completely melted. Be careful not to burn your dark chocolate." },{ "@type": "HowToStep", "text": "In a large bowl, whisk together butter and sugar. You need to whisk these two really well, for at least 3 minutes, until really fluffy. Don't worry if you don't have an electric mixer, do it by hand and count it as an exercise!" },{ "@type": "HowToStep", "text": "Add one egg at a time and the black coffee, keep whisking. Keep in mind that you won't notice the coffee taste but it will really help enhance the chocolate flavor, I like adding a bit of black coffee to almost all my chocolate desserts." },{ "@type": "HowToStep", "text": "In a separate bowl, sift all your remaining dry ingredients: all purpose flour, Rainforest Cocoa powder, baking soda and salt." },{ "@type": "HowToStep", "text": "Combine all the ingredients without over mixing." },{ "@type": "HowToStep", "text": "Chill your cookie dough for 20 minutes before baking. This will help the cookie to keep the shape in the oven. I recommend baking one cookie at a time because they expand a lot." },{ "@type": "HowToStep", "text": "This amount of dough is enough to make 2 giant cookies (or around 12 - 14 regular size cookies). So divide your dough in two balls." },{ "@type": "HowToStep", "text": "Butter your baking pan or use some parchment paper under your cookie. Add your dough ball and slightly press it down." },{ "@type": "HowToStep", "text": "Bake for 8 minutes, take the cookie off the oven, place your Belgian White chocolate, sprinkle some sugar on top and then put it back in the oven to bake it for another 2 – 3 minutes." },{ "@type": "HowToStep", "text": "Let it cool down completely before moving it to a plate. This is the reason why I rather use parchment paper under because when you're read just pull up the parchment paper and let the cookie cool down outside the baking pan." }], "aggregateRating": { "@type": "AggregateRating", "ratingValue": "5", "bestRating": "5", "worstRating": "1", "ratingCount": "1" } }