White Chocolate Swiss Meringue Buttercream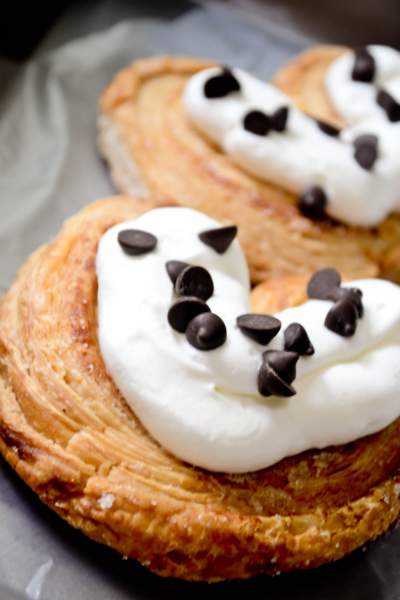 There are three kinds of meringues: French meringue, Italian meringue and the famous Swiss meringue. All meringues are delicious and it is worth trying them to learn the nuances of each. The addition of white chocolate to a Swiss meringue and making it a buttercream frosting develops a whole new depth of complexity in flavor and this allows the baker to develop signature desserts.
Swiss meringue as an egg white icing can be tricky, but the following insider tips will make it easy. Keep in mind with this easy recipe you can add fruit flavor to the white chocolate Swiss meringue buttercream for flavor and color. As a white chocolate buttercream base, the meringue will easily accept almost any bright fruit flavor.Try a white chocolate raspberry Swiss meringue as a variation.
Use gourmet quality white chocolate for the buttercream base. Ingredients are key in ensuring quality and we recommend using only real white chocolate because the melt of real chocolate is more smooth than a compound coating or low cocoa butter chocolate chip. White Chocolate Couverture from our brand Santa Barbara Chocolate is what we use in our chocolate factory and in the test kitchen when making desserts. Specifically the white chocolate couverture tabs is what we use when making buttercream frosting or Swiss meringue buttercream.
Swiss Meringue Buttercream is perfect to decorate cupcakes or to fill a layered cake. Try serving it with fresh fruits like raspberries or even add raspberry puree to color the Swiss meringue buttercream red.
This recipe of White Chocolate Swiss Meringue Buttercream can be stored in the refrigerator for up to 2 weeks.
Ingredients:
Egg whites from 6 large eggs
2 cups of sugar
2 cups of unsalted butter, room temperature
1 tbsp of honey
5 oz of White Chocolate Couverture
2 tbsp of milk
Instructions:
Over a bain marie, whisk the egg whites with the two cups of sugar and honey. It is important to make sure that the water is not touching the bowl where you are whisking the mixture, you don't want to cook your eggs by mistake. When the sugar is completely dissolved, take the mixture off the heat and place it in a shallow container. Let it chill in the refrigerator for at least 10 minutes before using it.
You can do this step using the microwave instead: in a microwave safe bowl, whisk your egg whites, honey and sugar really well. Heat for 20 seconds and stir the mixture. Repeat 6 times or until the sugar is completely dissolved. It is important to stir the syrup after every 20 seconds of heat. When ready, place it in a shallow container and let it chill in the refrigerator for 10 minutes before using.
Take another bowl and beat the butter, you can do this either with an electric mixer or by hand using a whisk. You need your butter to be pale and creamy.
Add the melted White Chocolate into the creamy butter. You can melt your chocolate using the double boiler method or using the melting chocolate in the microwave method: heat the chocolate for 20 seconds and stir, repeat until the chocolate is completely melted.
Add half of the cooled egg whites and sugar mixture into the pale butter. Beat the frosting for 1 minute, pour the remaining half and the milk; keep mixing for another 1-2 minutes until light and fluffy.
Your white chocolate Swiss meringue buttercream is ready to use! Pipe it or spread it on your favorite pastry - try it as a topping to a fruit smoothie.