Pistachio Butter in White Chocolate Biscotti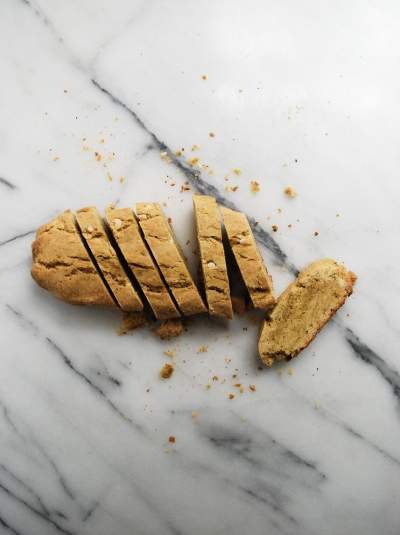 Biscotti white chocolate with Pistachio Butter
What I sometimes consider the forgotten cookie. Or one of the only cookies that is acceptable to eat with or FOR breakfast… because who would turn down the opportunity to eat a cookie with breakfast? Luckily, though, biscotti are a perfect cookie any time of the day!
In their homeland of Italy, these cookies are far from forgotten.Their crunchy + dry (not stale!) texture, and were originally praised for their ability to be stored for an extended period of time. Luckily, these Pistachio Butter + White Chocolate Biscotti won't last that long in your home.
Growing up, my mom always made biscotti. I have distinct memories of dipping a crunchy biscotti into a hot cup of coffee until the dough became soft, then letting it melt in my mouth. This may also have been the start of my love for coffee – because these two are a match made in heaven.
Biscotti always seemed like a very sophisticated cookie. To my surprise, this classic Italian cookie is super simple to make + can be customized with endless combinations of texture + flavor. Chocolate, nuts, fruit, citrus zest, various extracts, you name it!
For my first attempt at biscotti, I went with a classic combination: pistachio + white chocolate. Although, instead of the more traditional pieces of pistachio, I made (also, for the first time…) Homemade Pistachio Butter. A nutty + creamy nut butter, with a beautiful pop of color, that brings all the same, if not more, pistachio flavor. This savory, nutty flavor is complimented by morsels of Santa Barbara White Chocolate. Santa Barbara delivers a selection of the best baking chocolate through sustainable cacao farming – I cannot say enough about the quality of their chocolate + the value that it will bring to your recipes.
These Pistachio Butter + White Chocolate Biscotti are a kitchen-newbie or lazy cooks saving grace. The name "biscotti" is actually derived from a Latin word, meaning "twice cooked or baked." BUT… this simple recipe eliminates that extra baking step but still delivers a light + crunchy biscotti. Traditionally, biscotti are made from barely wet ingredients, which excludes the use of butter, oil, or milk. However, this recipe takes the nontraditional approach of incorporating a combination of the smooth pistachio butter + oil to deliver a little bit of a softer cookie. Not overly sweet but still incredibly flavorful. A cookie that definitely will not be forgotten!
Homemade Pistachio Butter
Put 1 cup of raw, unsalted pistachios in a food processor (or other high-powered blender). Blend on low for about 3 minutes. It will initially form a crumbly mixture but continue to blend until it forms a smooth butter.
Pistachio, White Chocolate Biscotti
Makes about 12 Biscotti
1 ¾ cup flour
1/3 cup white sugar
¼ cup of canola oil
2 tsp vanilla extract
2 eggs
1 tsp baking powder
¼ tsp salt
¼ cup of homemade pistachio butter
1/2 cup of Santa Barbara white chocolate morsels
In a bowl, mix together the oil + sugar. Mix in the vanilla extract, eggs + pistachio butter. In a separate bowl, combine the flour, salt, + baking powder. Gradually mix the dry ingredients into the wet until well combined. Stir in the white chocolate chips. Divide the dough in half + shape into two logs. Place on an oiled cookie sheet + bake at 300F for 20 minutes, or until lightly browned. Let the biscotti cool completely before cutting into diagonal slices. If not completely cooked throughout, lay the slices on their sides then bake for 4-6 minutes at 275F. Option to dip cooked biscotti in melted white chocolate.
Check out our full list of chocolate varieties: