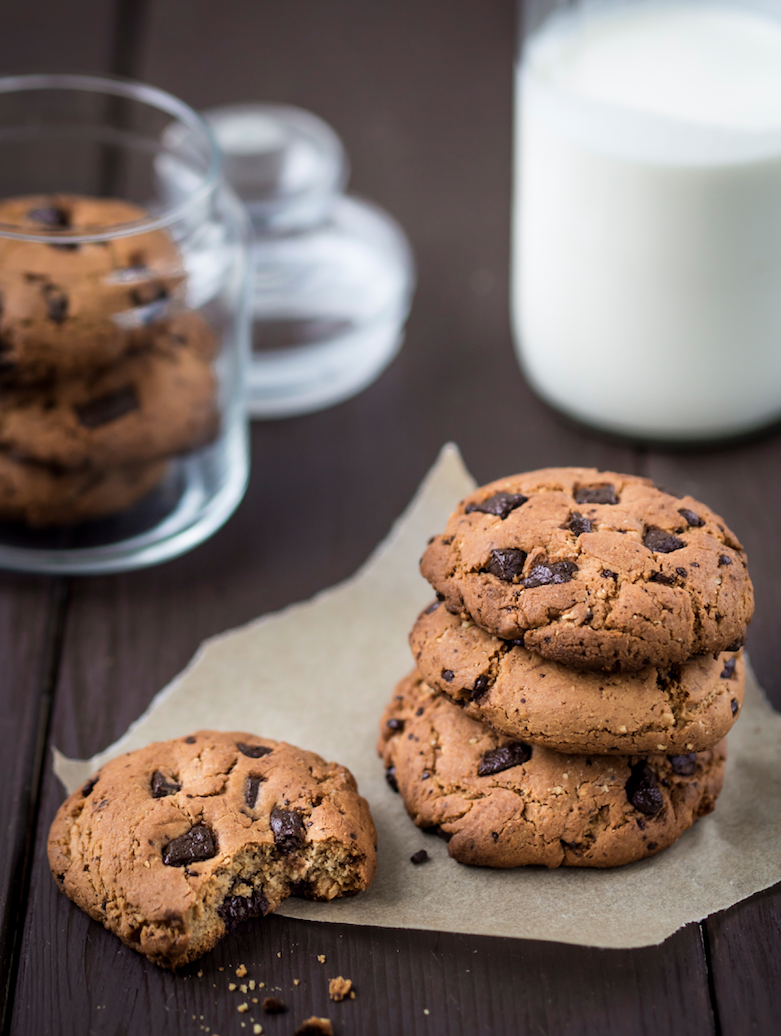 Chocolate chip cookie recipe with nuts:
Ingredients:
3/4 cup salted, softened butter
1 1/2 cup dark brown sugar
2 large eggs
1 teaspoon vanilla extract
2 cups all purpose flour
1/2 teaspoon baking soda
1/2 teaspoon baking powder
1/2 teaspoon cinnamon
20 ounces Melting Chocolate Chips
8 ounces dry roasted, salted cashews (pecans or walnuts work perfectly also)
Easy Baking:
Preheat oven to 375
Combine flour, baking soda, baking powder, and cinnamon (set aside)
Cream together butter and sugar
Add eggs and vanilla to butter/sugar and mix until combined
Add flour mix to batter and blend well
Fold in chocolate and cashews
Drop spoonfuls of dough onto lightly greased cookie sheet
Bake 12 minutes
Who Invented Chocolate Chips
Few are the heroes that get the recognition they actually deserve. Thankfully, Ruth Wakefield is one of them. This incredible woman has helped millions of people to get a taste of heaven by creating the most popular and iconic cookie of all times: Chocolate Chip Cookies, which celebrated its seventy-fifth birthday in 2016. Since born, these cookies have taken an incredible journey through history that starts in late 1930's at the Toll House Restaurant in Whitman, Massachusetts; whom owners were Ruth Wakefield and her husband Kenneth.
Even though these cookies have had uncountable variations on the recipe all around the world, the original recipe made its first appearance in print in the 'Tried and True' cookbook (1938 edition) written by Wakefield. In her book, the chocolate chip cookie was intended to be an accompaniment to ice cream; what she didn't expected was that this cookie itself would go all the way into people's hearts with no ice cream needed. Loved and celebrated, Wakefield's cookies got featured on Betty Crocker's radio program and by March 20, 1939, Nestlé was given the right, from Wakefield herself, to use that famous cookie recipe and the Toll House name. You see Wakefield was making the dark chocolate chips originally by hand and that's when Nestlé stepped in and started making the chips in their state of the art manufacturing facility. Wakefield shared her recipe with Nestlé for a return of chocolate chips readily available.
Now, despite knowing a lot about the inventor, and where the Nestle Toll House Chocolate Chip Cookies were born, there's still a mystery that evolves the reason behind and the first making of the cookies. The myths abound. The first possible explanation, and most commonly known, is that Ruth Wakefield had an unexpectedly lack of nuts that were needed for a regular ice-cream cookie recipe, and, whether it had been an act of creativity or desperation or not, replaced the nuts with chopped chunks from a Nestlé's bittersweet chocolate bar. The second story, and certainly less probably, claims that it was an accident; the cookie dough was mixed with chocolate by mistake after an industrial mixer made the chocolate fall from a shelf as consequence of vibrations. According to Carolyn Wyman in his book 'Great American Chocolate Chip Cookie Book', this fantastic cookies weren't the result of any accident, casually or lack of professionalism at work; instead, it was a result of hard work, training and a tendency to perfectionism in crafting spectacular baked cookies. This sort of feels like the true version of the best chocolate chip cookies origin story to us.
But the story of this delicious and traditional dessert doesn't stop there, because these cookies weren't just simple cookies. The sweet cookie during The Great Depression, with an improved and happy flavor, gave people a comfortable and psychologically hopeful look into a possible future where everything would be better. A big chocolatey bite of these cookies distracted people from the unfortunate reality. With the entrance of America into the Second World War, the Wakefield's cookies boomed in popularity and became a common constituent in care packages, which were shipped to American soldiers overseas. Even the Toll House Restaurant decided to share their star product with servicemen abroad. Those events made the Nestle Toll House Chocolate Chip Cookie Recipe have a value that was beyond flavor, texture or smell… but a true emotional value that made them the most popular cookie recipe of America. Everyone came to love the cookie even more than apple pie.
In postwar years, these lovely cookies rapidly travelled all around the world in many different ways. Although inspiring individuals, the original Toll House cookie recipe inspired companies too. Nestlé, Pillsbury, Nabisco and many more took the opportunity to start a new path with their own cookies, their own stores and their own recipe (which no matter how it's made, is still recognizable as a chocolate chip cookie). And that's precisely the reason why these cookies are so famous. EVERYONE can make cookies and try new additions of nuts or chocolate varieties. What can be simpler than mixing in dark chocolate and nuts in your own homemade cookie dough and baking?
Let's all celebrate chocolate cookies, so go ahead and make yours! Making your own cookie dough at home is fun and relaxing. Using melting chocolate chips from Santa Barbara Chocolate, which is one of the best chocolate wholesale companies ever will make your cookies the most yummy of all.
Additional Facts:
Ruth Wakefield was reportedly given a lifetime of chocolate supply and was also paid by Nestlé for her work as a consultant. Ruth primarily used dark chocolate in all of her cookie recipes. She regularly would include pecans or walnuts in her cookies.
Chips Ahoy, David's Cookies, Famous Amos were all inspired by Wakefield's cookie popularity. The chocolate chips are dark chocolate also.
Ruth and her husband sold their restaurant in 1967.
New Year's Eve of 1984 The Toll House Restaurant burned down. Now it is a Wendy's, which has on its premises a small museum to the Toll House Restaurant and Ruth Wakefield.
Levain Bakery in New York is the one of the most famous gourmet cookie bakeries today. Based in New York City, Levain specializes in gourmet cookies, specifically the chocolate chip walnut. Their cookies are available at four bakery locations and online. If you want to send a gourmet chocolate chip cookie gift we recommend trying Levain as their quality and presentation are second to none: https://levainbakery.com/
Some of our delicious delights:
Couverture Belgian Milk Chocolate
{ "@context": "https://schema.org/", "@type": "Recipe", "name": "Chocolate Chip Cookie with Nuts", "image": "https://www.santabarbarachocolate.com/product_images/uploaded_images/chocolate-chip-cookie-recipe-nuts.png", "description": "In postwar years, these lovely cookies rapidly travelled all around the world in many different ways. Although inspiring individuals, the original Toll House cookie recipe inspired companies too. Nestlé, Pillsbury, Nabisco and many more took the opportunity to start a new path with their own cookies, their own stores and their own recipe (which no matter how it's made, is still recognizable as a chocolate chip cookie). And that's precisely the reason why these cookies are so famous. EVERYONE can make cookies and try new additions of nuts or chocolate varieties. What can be simpler than mixing in dark chocolate and nuts in your own homemade cookie dough and baking?", "keywords": "Chocolate Chip Cookie with Nuts", "author": { "@type": "Person", "name": "Jason Vishnefske" }, "datePublished": "2018-12-21", "prepTime": "PT20M", "cookTime": "PT40M", "totalTime": "PT60M", "recipeCategory": "dessert", "recipeCuisine": "USA", "recipeYield": "10", "nutrition": { "@type": "NutritionInformation", "calories": "" }, "recipeIngredient": [ "3/4 cup salted, softened butter", "1 1/2 cup dark brown sugar", "2 large eggs", "1 teaspoon vanilla extract", "2 cups all purpose flour", "1/2 teaspoon baking soda", "1/2 teaspoon baking powder", "1/2 teaspoon cinnamon", "20 ounces Melting Chocolate Chips", "8 ounces dry roasted, salted cashews (pecans or walnuts work perfectly also)" ], "recipeInstructions": [{ "@type": "HowToStep", "text": "Preheat oven to 375" },{ "@type": "HowToStep", "text": "Combine flour, baking soda, baking powder, and cinnamon (set aside)" },{ "@type": "HowToStep", "text": "Cream together butter and sugar" },{ "@type": "HowToStep", "text": "Add eggs and vanilla to butter/sugar and mix until combined" },{ "@type": "HowToStep", "text": "Add flour mix to batter and blend well" },{ "@type": "HowToStep", "text": "Fold in chocolate and cashews" },{ "@type": "HowToStep", "text": "Drop spoonfuls of dough onto lightly greased cookie sheet" },{ "@type": "HowToStep", "text": "Bake 12 minutes" }], "aggregateRating": { "@type": "AggregateRating", "ratingValue": "5", "bestRating": "5", "worstRating": "1", "ratingCount": "1" } }